The Sennheiser MM 550 seemed to be the first Bluetooth headphones with active noise cancelling that actually fit around my ears so I just had to get them and see what they were like.
And at a first glance, everything looked good. The MM 550's build quality certainly meets the price range and they come with a wide range of accessories like power adapters for just about everywhere, an airline adapter (2x 3.5mm mono to 1×3.5mm stereo), a small Sennheiser-branded travel bag, and a 6.35mm adapter.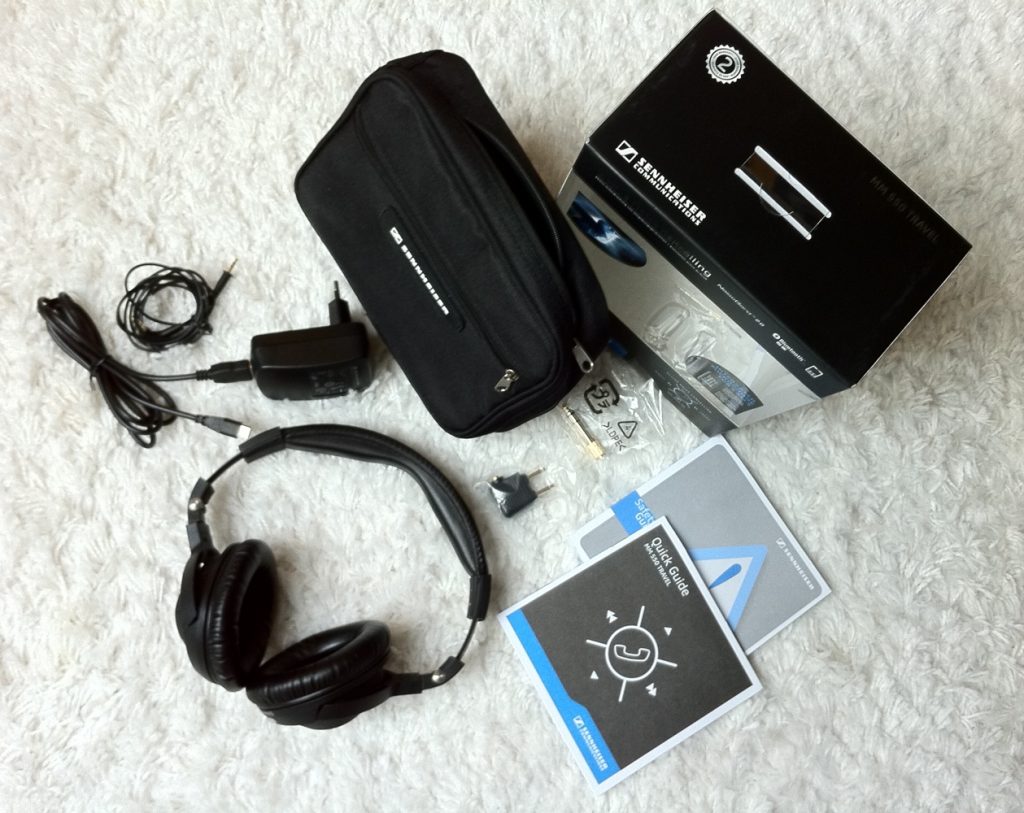 Pairing them with my iPhone and my Mac was quite easy. The headphones are put into pairing mode by holding down the center sennheiser-button for a couple of seconds when the Headphones are switched off. The Sennheisers can pair with up to 8 bluetooth audio sources. This is an improvement over the two audio sources my Philips SHB9000 used to remember. If you've paired them with 8 devices, the Headphones start overwriting the oldest entries in their database.
Unlike the Philips SHB9000, The Sennheisers can be used while the battery is charging. I don't understand why Sennheiser decided to use their own power connector. Most other deviced like this can be charged using a standard Mini-USB connector, but these can't. This means, that you'll have to carry around the USB-cable (one side is USB-A, the other this Sennheiser thing) all the time instead of just using the cable you're charging your other devices with. At least you won't need the power converter since you can charge the Sennheisers using any USB port.
I paired the Sennheiser MM 550 with my iPhone 3GS. The headphones feature the standard AVRCP-controls for skipping and pausing songs. Unlike the Philips, they feature a dedicated "bluetooth" button. Pressing it once, instantly invokes the iphone's voice recognition feature and holding it down for two seconds will order your phone to call the last contact in the phone app's call list. The call quality was great and the callee stated that he'd understood me quite well, even as I was at a crowded town square. When answering an incoming call, the headphones instantly switch from Stereo-Music to Mono-Phone mode. And after the call ended, they'll switch back.
My ears nestled very well inside the relatively large earpads and even after hours of wearing them, they were still comfortable. At cold winter days, they'll theoretically keep your ears warm but the limitation to operating temperatures above 0º Celsius as stated in the manual makes them useless for usage outside for a couple of months a year if you live in a country with frosty temperatures to speak of.
Speaking of "travel" headphones this is quite a limitation.
When you indulge them with the necessary temperatures, they can also be connected via the provided 3.5mm jack. The difference in actual audio quality is almost inaudible. The biggest difference is, apart from you pulling your laptop computer from the table when you forgot about the headphones being connected via cable and you are trying to move around, the absence of the constant buzzing noise that accompanies your listening experience whenever you're connected via bluetooth.
I hate to say, But the audio quality is far inferior to what you'd expect from a 300€+ headset and even to my 100€ Philips. Apart from the buzzing noise mentioned above, everything above ~8khz is far too loud and sounds almost overdriven. In contrast, there's almost no bass to speak of. In comparison to my Philips' "space-filling" sound, The Sennheisers sounded quite shallow. The only positive thing about the sound was the quite detailed high midrange. I was able to somewhat compensate for the frequency response problems using the iTunes equalizer on my mac but due to the lack of a graphical equalizer, I had no luck with my iPhone. I don't understand why these things, being "digital" headphones, have no internal equalizer. The Active noise cancelling, does a good job. It doesn't really shut off the world around you buy turns everything down for about 2-3dB. Since our ears adapt to the surrounding noise level, we automatically turn the volume of our headphones up to drown the ambient noise. If you're doing this at train stations or other noisy places, this isn't exactly good for your ears and the active noise cancelling allows you to turn the music volume down a bit, resulting in a similar listening experience. The difference is, that you ears don't hurt after a while. If you want to talk to somebody while you got your headphones on, you can invoke a "talk-through"-mode which only lets the usual voice frequencies through. This is great for understanding people in noisy environments.
The downside to the active noise cancelling that the actual audio quality is worse with active noise cancelling turned on. To compensate, there's a SRS WOW "enhancer" which — you guessed it — makes it even worse. Everything sounds a bit more like it was surrounding you but that's it. It's like you're having a plastic bag on your had while being surrounded by bath tubs filled with 13″ notebooks playing the same song, one of them connected to a subwoofer which is turned very loud but placed about two stories above. To Summarize this, i'd say, that The Sennheisers are great in every way except the sound. Speaking of headphones, this disqualifies them for me and the'll go right back to Amazon. Too bad. They're comfortable, easy to control and at least the shell is well built.
But I think, I'll just live with the gaffer tape i've recently fixed my SHB9000s with.